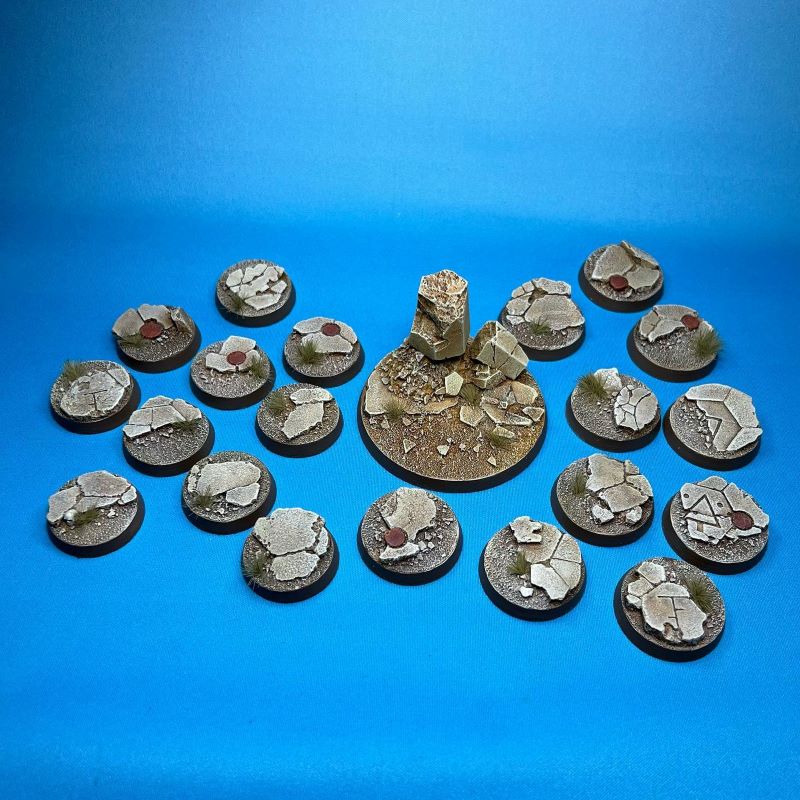 I painted up some of the new Lost Empires base sets. While I chose to paint them in a yellowing sandstone like colors like a desert environment you can paint them any way you choose. The bases in the image were painted with these colors.

Applied with an airbrush.
Stynylrez SNR-404 Red Brown Primer
Minitaire D6-124-2 Amber

Applied with a brush a wash of
Citadel Colour Contrast Skeleton Horde
Citadel Colour Shade Agrax Earthshade

Drybrushed
Mig AMMO 1.MIG-901 Dunkelbelb Dark Base
Mig AMMO A.MIG-0617 Medium German Yellow Dio Drybrush Paint
Mig AMMO A.MIG-0616 Light Sand Dio Drybrush Paint

Round red Stones were painted with Pro Acryl Burnt Sienna

Base edges were oainted with Citadel Colour Base Steel Legion Drab

Dead Grass Tufts were added to random bases for some extra variety.

Pretty quick and simple way to paint up a set of bases like this. I probably spent more time cleaning the airbrush and waiting for washes to dry than actual painting.

Lost Empires work well with Warhammer 40K armies like Aeldari (Eldar) or any of the other armies from the game.